Vineyards, châteaux and Romanesque churches
A pleasant way of life in Burgundy!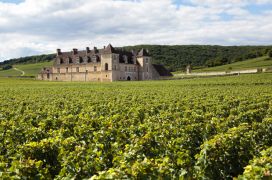 Burgundy - the very name conjures up an array of wonderful images of bountiful vineyards, stately châteaux, charming villages and natural splendour. Here you'll find some of the world's finest wines are produced, which you can discover along the Route des Grands Crus, an exceptional itinerary along the Côte de Nuits and the Côte de Beaune. You'll also find sleepy villages bathing in the sunlight, as well as ancient sites such as Alésia, Bibracte and Autun. And whichever way you turn, you'll find open and dynamic towns like Beaune, Chalon-sur-Saône, Tournus and Mâcon.
If you love exploring places at your own pace, then you'll love discover the secrets of Burgundy by bike. In this rich historical region, special routes will lead you to the heart of the wine country. By car or on foot, you can also discover the many châteaux, villages and wine cellars for a cultural pitstop.
The fact that the Saône-et-Loire department is so prized by cyclists and walkers is no coincidence. The first "Voie Verte" (Green Route) for cycling in France was born here between Cluny and Givry, and the itineraries for cycle-tourism are numerous and varied, opening your horizons onto natural splendour.
From Fleurville, both a "voie verte" (green route) and a "voie bleue" (blue route, from the gates of the château) will allow you to discover Southern Burgundy at your own pace.