Discover Mâcon and the surrounding area
From our charming hotel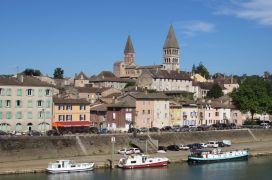 When you stay at Le Château de Fleurville in the wonderful setting of Southern Burgundy, you'll discover there's plenty to see and do in this wonderful region. Fleurville is located in the land of art and history between Cluny and Tournus, which offers many riches of heritage, with the Romanesque churches playing a starring role.
Less than a quarter hour from the hotel lies Tournus. This town almost has a Mediterranean atmosphere and houses many treasures of Romanesque art, with the Abbaye Saint-Philibert as the crown jewel. Just 30 minutes from Fleurville, discover the Abbaye de Cluny. A spiritual heart of Medieval Europe, it is one of the most visited abbeys in France and still retains to this day a church, a cloister and a convent.
You can also discover the Rock of Solutré (a major prehistoric site), the Climats de Bourgogne (major winemaking plots), the Château de Cormatin and the Château de Berzé-le-Châtel, plus don't miss the area of Burgundian Bresse with the quaint village of Louhans and its Grand-Rue, a unique street lined with 157 arcades dating to the Late Middle Ages.